Sustainability on Campus

Sustainable Design Efforts:
The NEW CSUF student housing complex is LEED Platinum: Leading California
The Student Recreation Center is designed to be environmentally sensitive and lead Green efforts at Cal State Fullerton. The center was awarded "Best Overall Sustainable Design" as part of the 2007 Best Practice Awards for the University of California/California State University Energy Efficiency Partnership Program and became the first campus building awarded a Gold Leadership in Energy and Environmental Design certification.  
More Student Recreation Center sustainable efforts: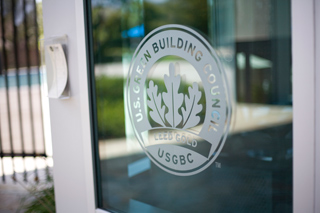 Sustainable Design Efforts

A Gold for Being Green
Facilities Operations:
Cal State Fullerton developed integrated sustainability policies to help make our campus more sustainable. Sustainability principles in building practices, in energy use, in transportation and water policies, in recycling, and in food services have been applied to phsycial plant management.  
For more information, visit Facilities Operations - Sustainability
ASI Environmental Sustainability Committee
The Environmental Sustainability Committee advocates on matters pertaining to the environment and sustainability. The committee also organizes Earth Day event at CSUF, as well as other events to raise awareness amongst CSUF students and help CSUF students become engaged in their civic responsibilities and to be contributors for the betterment of the society.
Coordinator: Theary Monh asices@fullerton.edu
ASI Sustainability
: For many years, the ASI has been working with students, volunteers, staff, faculty, and interested parties to promote greater environmental sustainability. Some of the ASI's more recent sustainability initiatives are:
Waterless Urinal Experiment
SRC/TSU Re-Lamp Efforts Using More Energy Efficient Bulbs
Xeriscape Landscape Outdoor Planter
Recycled Content Logo for ASI Print Materials

Education/Classes:
All departments and colleges include the Green concept in education and promote classes and programs that contain a sustainability focus. For example, Anthropology, Art, Biological Science, Chemistry, Communications, Economics, Geography, Elementary and Bilingual Education, Mechanical Engineering, Environmental Studies, Geology, Liberal Studies, Management, Sociology, and Women's Studies all offer courses that include sustainability.
For more information about sustainability classes and programs please visit these websites:
Courses That Include Sustainability

CSUF Extension Applied Sustainability Certificates

Environmental Studies Graduate Program

Environmental Engineering
Cal State Fullerton also offers a General Education Pathway in Sustainability. The Sustainability pathway provides students with the opportunity to explore how social, economic, and environmental issues have interacted to result in the global conditions that you see today and challenges that you will confront in the future.
For more information see: GE Pathway in Sustainability
Sustainability Project Team:
The Sustainability Project Team was charged with examining recent campus sustainability reports and asked to make recommendations to advance sustainability. The team considered mechanisms to raise campus awareness and identify immediate cost savings or revenue enhancement opportunities that the university could feasibly pursue.View Sustainability Report by Sustainability Project Team : Sustainability Report
Sustainability Activities by Alumni:
Caecilia Gotama (B.S. engineering-mechanical 82, M.S. engineering-mechanical 87), Gotama Building Engineers Inc. in Marina del Rey, designs buildings to be green and sustainable. Sustaining Designed-In Sustainability
College of Natural Sciences and Mathematics: Simple Steps Toward Sustainability:
A suggested list of simple sustainability actions that can be taken by individuals and/or institutions suggested by Professor Scott Hewitt, chair of the Academic Senate's Ad Hoc Sustainability Committee. Seven Dozen (Mostly) Simple Steps Toward Sustainability
U-ACRE
The Urban Agriculture Community-based Research Experience (U-ACRE) program at California State University Fullerton provides:
Hands-on community-based research experience for undergraduates
Community outreach in areas of urban agriculture, food security, & child nutrition
A replicable model of urban agriculture as a tool to increase food security and to improve child nutrition
Knowledge and skill sets for jobs and careers in STEM and NIFA-related fields
Roots & Shoots, CSUF
An active club that seeks to create positive change for our community, for animals, and for the environment. This club at Cal State Fullerton is part of the Roots & Shoots network that branches out across the globe, connecting youth of all ages who share a common desire to help make our world a better place. Roots & Shoots
Environmental Studies Student Association (ESSA)
A student association that provides support and advocacy for CSUF Environmental Studies Students. Working with excellent instructors and mentors from an array of departments and a pool of highly trained environmental professionals from local and regional government, as well as private environmental firms, this large student body brings more sustainability forces to the campus. Environmental Studies Student Association
PowerSave Campus
PowerSave Campus is a student-driven energy efficiency education program that promotes careers in the field, generates actual energy savings, increases awareness of the importance of energy efficiency, and encourages academic infusion of sustainability concepts.
Our projects range from energy audits and assessments, residential and laboratory energy competitions, intern-led and faculty sponsored academic courses, green career fairs, and energy efficiency technology retrofits. CSUF PowerSave Campus interns work closely with faculty, staff, administrators and other students to engage them in their projects, spearheading educational campaigns that involve the entire campus community. PowerSave Campus